Aid for:
Arthritis, Rheumatoid, Carpal Tunnel, Inflammation, Injuries & Pain within Joints / Muscles.
Ideal for:
Gym, Workouts, Running, Sports, Cycling, Athletes, Driving and Gaming
CompressionAttire's Material:
88% Copper Infused Nylon and 12% Spandex.
Our Fingerless Arthritis Gloves are manufactured with top grade spandex and copper to assist you in getting the support you require throughout the day as well as night.
Our Gloves contain the highest quality and quantity of copper content on the market. The CompressionAttire Revival Gloves are constructed with 88% copper-infused nylon.
Helps Alleviate Joint Tightness and Pain:
Copper has the ability to improve blood circulation, help with detox cleansing, and heal inflamed joints. It reduces soreness and painful sensations. Additionally is accelerated muscle and joint healing and help. Copper's an effective aid with Arthritic and Rheumatic ailments. It helps to balance the metabolic process and enhance oxygen use.
Better Skin and Healing Properties:
Copper activates angiogenesis, the making of collagen and other key proteins that help with stabilizing the layers of the skin. Such skin remodelling qualities enhance the look of your skin and have the capability to quicken the healing of cuts.
Anti-Microbial and Anti-Odor:
Copper is able to successfully restrict the metabolic process of microbe cells. Its sterilization and deodorization properties stop a number of harmful bacteria, fungi, and microbes therefore eliminating the odor produced.
Scientific Studies and Progress:
Beijing Sport University and Loughborough University approved our product. Test results indicate dramatic performance improvements in the range of 2.7% to 3.3%.
The Compression Fit:
Efficient compression gives exceptional support to muscles and joints during sporting activities and workouts.
Copper Therapy:
Individuals struggling with joint pain, arthritic diseases, and carpal tunnel have revealed that their symptoms are reduced through copper therapy. Copper Compression Gloves are specifically designed to tackle your muscle stiffness and soreness in your wrists, palms, and fingers.
Retain Warmth:
With the help of Copper Compression Gloves' tight fit, you can keep your hands, fingers, and wrists warm, while still allowing you to retain your wide range of motion. By retaining your range of motion, your muscles can continue working and strengthening.
Designed to be Used 24/7:
These gloves are made to offer a snug fit and can be used 24/7 allowing you to constantly benefit from them.
Other Benefits:
Improve blood circulation
Enhance oxygen use
Activate angiogenesis
88% copper content
Anti-bacterial
Enhance grip
Lightweight
Durable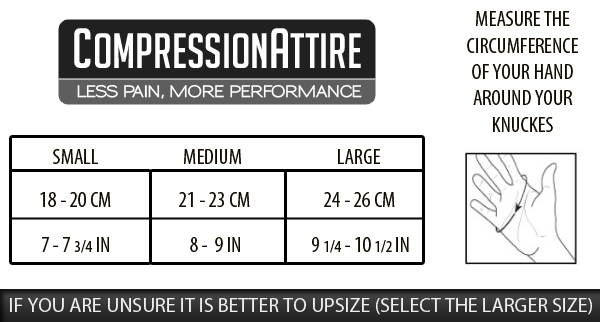 Every product you purchase from CompressionAttire.com comes with 90 day money-back guarantee.
90 DAY GUARANTEE / RETURNS
Only products purchased directly from CompressionAttire.com will have 90 day guarantee.
We will inspect an image of the product before giving further instruction on how we believe you should proceed.
This warranty does not cover:

Lost products
Intentional damage
Third-party customers
You don't need to worry about anything when you order from us. All our products comes with 100% lifetime warranty!

We use the finest materials in the world when it comes to our products. We are confident that your life will become considerably easier and more pain-free if you go ahead with this purchase!

Scroll down and check our customers reviews for proof.
All our products are delivered within 2 - 5 working days throughout the entire United States.



LIMITED TIME OFFER
Buy today and receive not one but two of our most popular pain relief eBooks to further assist you with your pains and aches.

These have carefully been written to aid and provide relief for;
Arthritic Disease, Carpal Tunnel, Poor Blood Circulation, Inflammation and RSI (Repetitive Strain Injury).

If you follow our specialist advice together with our products you will really feel like a new person!



Product Description:

Copper Compression Gloves:
Ideal for Arthritis, Carpal Tunnel, Sports, Athletes, Cycling, Workouts, Gym, Driving, Gaming, Arthritis, Injuries, and Pain.

CompressionAttire's Material:
88% Copper Infused Nylon and 12% Spandex.

Helps Alleviate Joint Tightness and Pain:
Copper has the ability to improve blood circulation, help with detox cleansing, and heal inflamed joints. It reduces soreness and painful sensations.

Additionally is accelerated muscle and joint healing and help.

Copper's an effective aid with Arthritic and Rheumatic ailments. It helps to balance the metabolic process and enhance oxygen use.

Better Skin and Healing Properties:
Copper activates angiogenesis, the making of collagen and other key proteins that help with stabilizing the layers of the skin.

Such skin remodeling qualities enhance the look of your skin and have the capability to quicken the healing of cuts.

Anti-Microbial and Anti-Odor:
Copper is able to successfully restrict the metabolic process of microbe cells. Its sterilization and deodorization properties stop a number of harmful bacteria, fungi, and microbes therefore eliminating the odor produced.

Scientific Studies and Progress:
Beijing Sport University and Loughborough University approved our product. Test results indicate dramatic performance improvements in the range of 2.7% to 3.3%.

The Compression Fit:
Efficient compression gives exceptional support to muscles and joints during sporting activities and workouts.

Individuals struggling with joint pain, arthritis disease, and carpal tunnel have revealed that their symptoms are reduced through copper therapy.

Copper Compression Gloves are specifically designed to tackle your muscle stiffness and soreness in your wrists, palms, and fingers.

Our Gloves have the highest copper content on the market. The Compression Gloves are constructed with 88% copper-infused nylon.

The Fingerless Arthritis Gloves are manufactured with top grade spandex and copper to assist you in getting the support you require throughout the day as well as night.

With the help of Copper Compression Gloves, you can keep your hands, fingers, and wrists warm, while still allowing you to retain your wide range of motion.
By retaining your range of motion, your muscles can continue working and strengthening.

These gloves are made to offer a snug fit and can be used 24/7 allowing you to constantly benefit from them.

Other Benefits
Improve blood circulation
Enhance oxygen use
Activate angiogenesis
88% copper content
Anti-bacterial
Retain warmth
Enhance grip
Lightweight
Durable